Newsletters
Bound to Move
(The Forge Newsletter_10&11_2019)
Then Midianite traders passed by. And they drew Joseph up and lifted him out of the pit, and sold him to the Ishmaelites for twenty shekels of silver. They took Joseph to Egypt. (Genesis 37:28)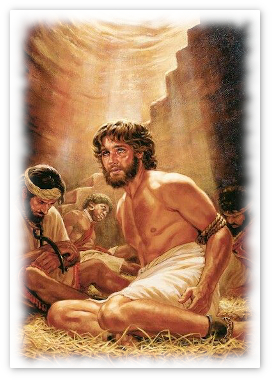 Joseph was bound by his brothers. He was unable to move, and couldn't go back to his father's house. Although he came to Dothan to find his brothers with his own strength, now he couldn't do anything with his own ability but was waiting for his death in a dry pit.
However, at that time the Ishmaelite traders turned up and bought him as a slave. They bound him and took him to Egypt. If Joseph wasn't bound, he surely would have returned to his father's house.
Also his successful life was ended and he was imprisoned by the accusation of Potiphar's wife. Through his "bound" life in the prison, he met some of the king's officials and he was taken to king Pharaoh by the one of ex-prisoners; the king's cupbearer.


1. God binds us in order to send us further
People bind others in order to slow us down, stop or kill us, but God allows us to be bound, stopped and imprisoned, in order to send us further, lift us up higher or release us into wider places.


2. If I am not bound, I may end up circling around in my limits
If I am not bound, I can move around freely with my abilities but I cannot go beyond my abilities. However, if I am bound, I cannot use my abilities, but God can release his abilities and his plans into my life.


3. God binds us in order to release us into his plan and his purpose
God allows us to be bound in order to release us into his plan and his purpose, also in order to move us to the place where he wants us to be. If I am not bound or not stuck, only I can use my abilities. But if I am bound or stuck, now God can show his abilities through me. Therefore the Apostle Paul insisted on going up to Jerusalem, although he heard that he was going to be arrested and the believers persuaded him with tears not to go.


4. When we are bound, our limit will be exposed and we will be humbled
Being bound or stuck is not an exciting experience. Also it exposes my limit and reveals that I can do nothing. When my limit is exposed, I may be humbled and seeking his help, experiencing his power and entering his eternal purposes.


5. If we don't trust in God, we are only interested in unbinding and fleeing
Those who don't trust in God are only interested in unbinding and fleeing, but those who trust in God, seek his help and pursue his purposes in the place of being bound. Jesus could have fled from Gethsemane before Judas Iscariot came, but he was willingly arrested, imprisoned and crucified in order to fulfil Father's eternal longing. God binds us with his love and truth and gives us eternal freedom in Him.
[ Prayer & Intercession ]
1. Polarisation in UK, South Korea, USA, Israel, and Hong Kong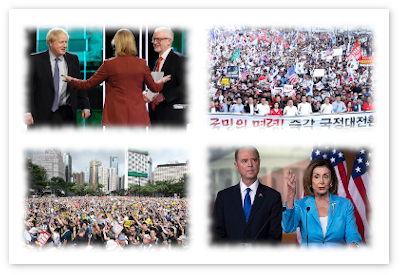 As we look around the world we can see much disturbance and turbulence: British people showed their hearts to come out from the EU(European Union) through the referendum in June 2016. Since the referendum, Brexit has been drifting for over three years and now there is a general election on 12 December 2019. The political party leaders are busy blaming and criticizing others, also promising wonderful things to earn people's hearts.
There will be a presidential election on 3rd November 2020 in the USA. About 17 candidates from the Democrat Party, are fighting each other in order to be the nominee and they are pursuing the impeachment of Donald Trump using the Ukraine issue. On 15th April 2020, there will be a general election in South Korea. The party leaders are attacking each other to get more votes.
Two Israeli appointed prime ministers have failed to form a coalition government yet, although they had general elections twice within a year. They might need to go the polls for a third time within a year. Meanwhile the current prime minister has been indicted for bribery, fraud and breach of trust by Israel's attorney general.
In June Hong Kong's pro-democracy movement began with the proposed law of extradition to mainland China. The protests became violent and over a thousand people have been arrested. On 24th November Hong Kong held local council elections that showed a landslide victory for the pro-democracy movement, with 17 of 18 councils.
This world has been polarising between Conservative and Labour, Republican and Democrats, Ruling and Opposition, Communists and Democratic, Islam and Christianity, and antisemitism is growing in the Western world. Also the environmental movement groups are warning us to stop climate change, reduce the use of fossil fuels, end plastic waste and so on.
We have to manage our globe wisely and shouldn't destroy it recklessly. However, we do not need to be disturbed or perturbed. We do need to know that this globe is not our destiny nor our ultimate inheritance for our descendants but the Kingdom of God, the new heaven and new earth.
Then I saw a new heaven and a new earth, for the first heaven and the first earth had passed away, and the sea was no more. (Revelation 21:1)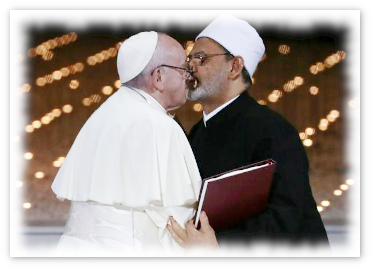 2. Reinventing the Global Educational Alliance(RGEA) by Pope Francis?
13th September 2019, Pope Francis has announced that he is hosting an initiative for a "Global Pact" to create a "new humanism." Pope Francis has now invited global leaders to sign. This event set to take place at the Vatican on 14th May 2020 and the theme is "Reinventing the Global Educational Alliance(RGEA)." We have to be aware of this age and forming this kind of alliance without Jesus. We don't need to reinvent the global education but learning and living it out of the truth of God. (You Tube link, click here)
All Scripture is breathed out by God and profitable for teaching, for reproof, for correction, and for training in righteousness, that the man of God may be complete, equipped for every good work. (2 Tim 3:16-17)


3. We have to choose between truth and feelings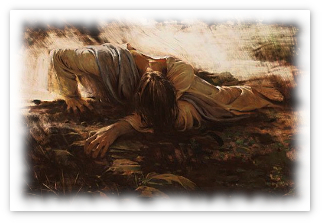 Even though people don't believe that God created Adam and Eve, people know that how to distinguish between male and female. Therefore although a male feels that he is woman, he is not a woman and cannot be a woman. Also, although a female feels that she is a man, she is not a man and she cannot be a man. Even if they choose to reshape their body through surgery, they cannot not change or replace their DNA.
Sometimes our feeling can lead us towards the right way, but often times it can lead us the wrong way. That's why we need self-control and self-discipline. We can see a mirage in the desert, if we are so thirsty. Although our eyes see the mirage, that is not real or true. If I feel I have £10 million in my bank account, I cannot get £10 million from my bank even though I take them to court, because that feeling is not true. However, nowadays some people are ridiculously accepting their feelings as more important than the truth and reality. So they are distorting and destroying the truth. Feelings are important for us, but if we don't have the truthful standards and boundaries, our society would descend into chaos, as it seems to be doing right now..
We have to practice being bound by the truth in the faith of God beyond our emotions or situations. Otherwise, we will live pleasurably or miserably according to our feelings and situations, just like the people in Sodom and Gomorrah and we may be destroyed with no chance to escape.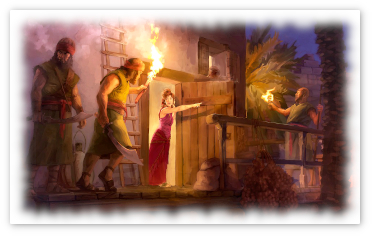 4. If we don't perceive history and our own time, we will follow the trend of the world
Rahab(רחב) was a prostitute, but she cared about her family. That's why she asked for her family's life when she saved two Israelite spies. Perhaps she became a prostitute to feed her family. Although she was a prostitute, she perceived the fate of Canaan and had faith in the God of Israel.
When she received the two Israelite spies, she could have treated them as customers and lived as a prostitute to earn money as usual. Or she could have reported them to the authority, then she would have got a great reward and become a heroine, for about two weeks. But she chose to hide them, which means that she became a betrayer of her own country. She risked her life. If they were found, she would have been killed.
Nowadays, we are so busy to earn money and to keep our positions and reputation. We don't have time or room to listen to God and to listen to the news of His Kingdom's advance. We are too busy to stop in order to spend time with God or even family members. Rahab loved her family and she put her trust in the God of Israel. That's why she risked her life.
Rahab heard about how God opened the Red sea and decimated the two kings and their countries. As the people of Jericho heard the news of Israel, they had been seized by fear, but the faith of God was growing in Rahab's heart. In the end, Rahab married one of the spies, Salmon, and became a great grand-mother of king David. (Joshua 2:4-5)
Am I ready to give up my current earnings, positions, reputations, and an opportunity of being famous, but to be misunderstood, to be hated, to be humiliated, to betray, and to be killed for the sake of my faith in Jesus?
My one vote may change not only my life or my family but also the whole country's destiny eternally. Today I have to make decision for the sake of Jesus' Name and for the Kingdom of God regardless of political parties, any benefit or friendship, etc..
[ News Update ]
1. The 14th Forge School of Faith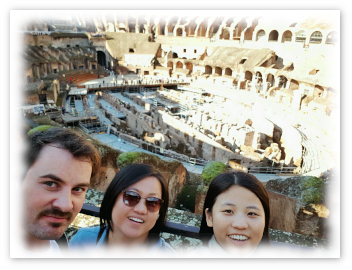 Although we had some people who were interested in joining the school, in the end we had only one special participant. I was thinking of the story of one sheep and ninety nine. I was challenged to appreciate and serve the one as if it is more than ninety nine. All together ten of us had great time to learn from each other and to share as friends and as family. Three of us went to Rome to find out His prayers and intercession.

"There was time when I felt as if 'love of god' and 'enjoyment' were far far away from me. I arrived at the U.K. with heavy heart- guilty and frustration. However, through the Forge School, I found that this time is not from my failure but a surprising present from God. Now, I am learning what is true love from God and enjoying what God has been giving me. And also, through the Forge Trip to Rome, I could find possibilities that I can trust God's plan and follow him even though it looks vague." (Naeun Lee)


2. Back to Eden Gardening Foundation
Owen has been interested in Biblical way of farming, and he has been learning and trying to do it. Also Owen and his wife Seungae have been building friendships with local people.

"The back to Eden gardening method itself is accredited to Paul Gautschi who copied the principals of the forest floor and created gardens that are relatively labour free to keep. The following You Tube link describes the method. (click here). The method is simplistic with wonderful results in the quality of produce and far fewer problems than normal gardening. I have this gardening method as an example of Gods grace and use it as an example of the depth that Gods grace covers." (read more...)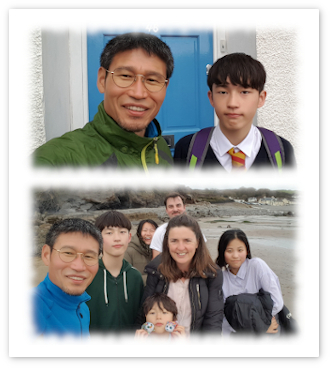 3. Pursuing God together as family and Noah's New Life at School
Sometimes my wife and I do pray together. But lately my wife and I decided to pray every night with holding hands from January this year. Also since, we came back from Korea last summer, we are having a family devotional time between 15 and 30 minutes after breakfast.
For the last four years, we have been home-schooling both of our sons. Over the summer, however, we felt Noah needed more friends. So we asked for God's sign. We decided to contact a particular school to ask if they had a space for Noah, it might be the sign. But when we called the school, they said they had no space. Anyway the school offered us to visit to look around and to talk in case a space came up for the next term. When we finished our conversation with the year 8 teacher, she went to see the head teacher. Then she came back and told us that day one student moved to another school, and offered us that place. So Noah started the school the next week and he enjoys most of it. He now learns Ruby, Football, Welsh, and French, as well as all the subjects he did at home. There is no Spanish (or Korean) so we still teach those.
4. My Music Album: "Tomorrow Never Comes!"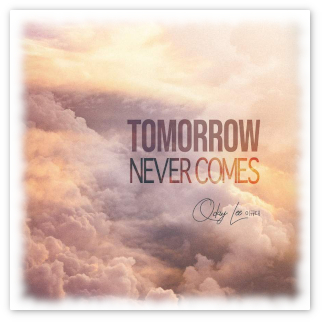 About four years ago God encouraged me and a brother helped me to start to record my songs. Also many others musicians and artists helped, including with finances, to finish this art work. It wasn't easy for me, but I wasn't alone, so I was able to complete it. This isn't perfect but I have obeyed what God had told me to do so as Moses made a bronze serpent. I do expect that God is going to use it.
"Thank you very much for the CD you sent. It is amazing and listening to the songs really encouraging me in my faith and lifts my feelings when I am home alone in a low down mood. I would like to buy another 2 copies for gifts if it is possible." (from an English lady)
(https://www.amazon.com/gp/product/B07WS3S7TS/?tag=distrokid06-20)
(https://music.apple.com/us/album/tomorrow-never-comes-single/1477550477?app=itunes&;;ign-mpt=uo%3D4)

[ On You Tube link ]
1. Tomorrow Never Comes!
2. The Only Way
3. Beginning & End
4. Enough
5. The Most Beautiful Thing
6. Set Free
---
Thirty Minutes Silence with Humility for the United Kingdom
Date : 6th December 2020 at 11:45am for 12pm - 12:30pm
Venue : London Parliament Square
Whoever welcome before God with humble heart!
Springs Gathering in Galilee, Israel
Jewish believers, Arab believers and others are gathering together to worship Jesus the Messiah and to intercede in order to build His Body and His Kingdom. Please come to join us.
- Dates : 12th - 16th April 2020
- Venue : Morning Star Fellowship (Tiberias, Galilee, Israel)
- Contacts : This e-mail address is being protected from spambots. You need JavaScript enabled to view it. /www.facebook.com/springsgathering/ (Joseph LEE)
Celebration for the Nations Spring 2020, Wales
Worshippers and intercessors to come together and 'sing to the well'!
Date : 28th - 30th May 2020
Venue : Ty Gwyn Community Church, Llanelli, South Wales, United Kingdom
Contacts : https://www.facebook.com/celebrationforthenations
3 Days Prayer & Fast for Israel and UK
- Dates : 22nd - 24th June 2020
- Venue : Brunel Manor, Torquay, Devon, TQ1 4SB
- Contacts : 07919620566 (Anne Rowntree) / This e-mail address is being protected from spambots. You need JavaScript enabled to view it.
Shalom Shalom!
Qday LEE

on behalf of the Forge family
This e-mail address is being protected from spambots. You need JavaScript enabled to view it.

(+44) 7870 653157