Newsletters
Enemy is the Answer?
(The Forge Newsletter_11&12_2018)
When Gideon came, behold, a man was telling a dream to his comrade. And he said, "Behold, I dreamed a dream, and behold, a cake of barley bread tumbled into the camp of Midian and came to the tent and struck it so that it fell and turned it upside down, so that the tent lay flat." (Judges 7:13)
God called Gideon to fight against Midian, Amalek and all the people of the East but Gideon was afraid. So God told him to go down to the enemy's camp to hear what they were talking about and Gideon went down to the enemy's camp. As he arrived, a man was telling his dream to his comrade and his comrade interpreted that God has given into Gideon's hand Midian and all the camp.


1. God uses the enemy not only to challenge us but encourage us to grow
When the angel of God visited, Gideon was hiding and threshing wheat in the winepress because of the enemy. However, God used the enemy to bring him out of himself to be a mighty warrior. God used the enemy's mouth to discourage themselves and to encourage Gideon and his army mightily.


2. Listening to God is the key of the answer
If we listen to our enemy without listening to God; or listen to the enemy first, then listen to God; we are already deceived, discouraged, defeated and destroyed, like Eve. Although Gideon was afraid, he listened to God first; then went to down to the enemy's camp to listen to the enemy's conversation. He was greatly encouraged by what the enemy talked.


3. Our enemy brings not only victory but also plunder and unity
When Gideon's army blew the trumpets and broke the jars, God set every enemy's sword against his comrade and against all the army. Also the rest of them fled away and they left a lot of plunder. The men of Israel were called out from Naphtali, Asher and from all Manasseh, and they pursued Midian. And Gideon sent messengers throughout all the hill country of Ephraim too thus bringing together the tribes of Israel at a time when they were diverging.


4. Without enemy, there is no victory
Jesus has already finished and paid through the Cross. So sometimes the Lord allows our enemies to come against us in order to give us the taste of His victory. But we often throw away His victory because we don't listen to God; instead we run away from our enemies. Jesus tells us to love our enemies, feed them when they are hungry and clothe them when they are naked. Because often the answer of the Lord is wrapped in problems and difficulties or disguised as an enemy.


5. Our ultimate enemy is Satan and myself
Satan is our ultimate enemy whom we have to fight against. Our other worst enemy is ourselves. If we don't realise that our real enemy is Satan and recognise his strategies; and if we don't realise when we are our own worst enemy; we will probably fight against people and might miss the ultimate enemy of God, and the answer of God.
[ Prayer & Intercession ]
1. We might be deceived by the enemy disguised as a friend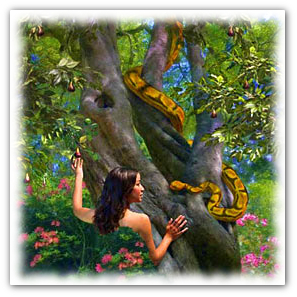 We often kick away the blessing of God that comes like an enemy, but we are deceived easily by the enemy who comes like friend. Eve was deceived by the enemy of God who came to her like a friend, then she introduced eternal death to mankind. Sometimes we, the Bride of Christ, are innocently deceived by Satan's lie, just like Eve. Also we are trapped by Satan's bait because of our greediness. However, Jesus came to earth like Moses' bronze serpent that was ugly and disfigured, and he has broken Satan's head and lies, and restored eternal life. The Cross is the answer and without death, there is no resurrection.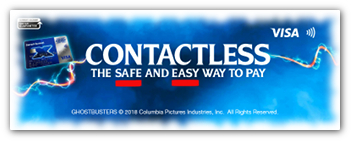 2. This world deceives our security by using bait of speed and convenience
When credit cards first came out, the companies tried to set up passwords and signatures in order to make them secure. Later on they printed photos of the owner on the card because some people forged signatures. However, nowadays the contactless card has been introduced to us and many people are using it without thinking of security. Anyone can use anyone's contactless card because it doesn't ask for a PIN or password and you can spend money easily and quickly, up to £30 per day.
Now we sacrifice our security to get speed and convenience. In the end, it will be found that contactless cards are not safe, so people will naturally accept micro-chips implanted in their body. In fact, there is no way to guarantee our security and there is no secure place in the world, except Jesus who is our everlasting refuge and fortified city.
3. Why the Northern Ireland border is a big issue for Brexit?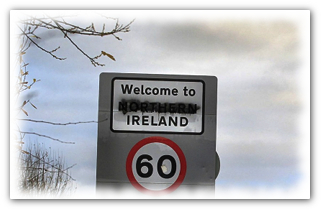 Theresa May was turned down again by the EU leaders on 14th December after surviving a vote of no confidence in her Conservative Party. EU leaders flatly refused to renegotiate an earlier Brexit agreement of an unpalatable "backstop". Why does the EU insist on keeping this "backstop"? Also why do the Brexiteers insist on removing the "backstop"? Because it could cleave Northern Ireland from the mainland and leave Britain effectively still subject to the EU.

4. Which should Britain choose: safety in economy or sovereignty in destiny?
Korean was colonised by Japan from 1910 to 1945. Some Koreans wanted Korea to be a part of Japan, so they changed their names into Japanese and cooperated with the Japanese government actively. However, the majority of Koreans fought against the Japanese government in order to take back our sovereignty by giving their lives.
Although Great Britain has been under the EU umbrella, the British people voted in 2016 for Brexit to come out of the EU. Now people are wondering whether they need to do another referendum or No-Brexit because the EU leaders wouldn't change the Northern Ireland border agreement and it is complicated. Don't the British people really bother about their sovereignty, only their economic and political interests?
And he made from one man every nation of mankind to live on all the face of the earth, having determined allotted periods and the boundaries of their dwelling place, that they should seek God, and perhaps feel their way toward him and find him. Yet he is actually not far from each one of us. (Acts 17:26-27)
During World War Ⅱ,the countries of Great Britain had a common enemy; Hitler, and they were one because of the enemy and they won the war. Today I think, however, British people don't recognise what their enemy is, so they can't fight against it. Instead they are fighting against each other. They need to recognise the enemy and its strategy to divide British people and to shatter her sovereignty, identity and destiny. We must remember that many British young people gave their lives to keep not only world peace but also their sovereignty. Just as my Korean ancestors gave their lives willingly to take back our sovereignty from Japan.
5. Without God's help, South and North Korea cannot be united peacefully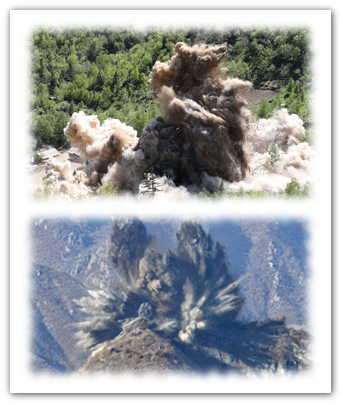 On 24th May 2018, North Korea invited foreign reporters instead of nuclear experts and showed the demolition of nuclear test sites in Poonggeyri in North Korea. They destroyed ten Guard Posts in the DMZ(Demilitarised Zone) on 20th November. Also North & South Korea started examining the railways in North Korea on 30th November to resume their functioning in the furture. However, we must not be deceived by what they say to us and show us. The peaceful reunification will not come through resuming railway connections; Kim Jong Eun's visit to South Korea; lifting economic sanctions, or America's aid; but only God's help. Because the JuChe ideology is not political but religious and spiritual, and it commands military power.
I do pray for peaceful reunification and we have to help the ordinary North Koreans' lives, but we need to be aware of the deception of the enemy. Often history repeats itself. In history, the communists presented differently from what they actually had planned in order to deceive their opponents. The Chinese Red Army and Chinese People's Party twice made an alliance: the United Front, that gave a foothold to the Chinese Red Army to occupy mainland China. The North Korean communist government covered up their war plan with a peaceful offer of exchanging separated families and suggesting a general election together South and North, just before they invaded South Korea and started the Korean Civil War in 1950.
[ News Update ]
1. The Forge School & Journey to Israel
Last summer I felt God was calling me to come over to Israel to pray over the land and to meet Messianic Jews around Galilee, and one Korean couple in Tel Aviv. Five of us went to Israel for two weeks. It was amazing that God had prepared for us people to meet, places to go, prayers to release, and provisions to enjoy. It was so encouraging, challenging, building and overcoming. We walked as Jesus walked in the areas and prayed for the people who are living in the land and blessed in the Name of the Prince of Peace, Yeshua. (Read more…)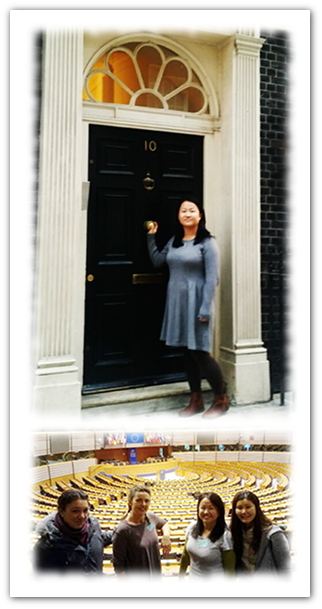 2. Prayer Journey to Brussels
Seungae was inspired to travel to London and Brussels to pray for British Government, Theresa May and the European Parliament. In the end four ladies went to London and prayed inside the Houses of Parliament for righteousness, justice and truth. On to Brussels on an overnight bus (not fun) where we stayed at the WYAM base, joined Brussels House of Prayer for their meeting and then went inside the European Parliament to pray with an international weekly prayer group. I felt a real sadness that such a huge and impressive structure should be based on Man and exclude God. Of course, they can't keep him out. I felt a great love for Europe, and also a real need to separate from the spirit of godlessness, in order to pursue God's purpose for unity in Europe.
3. Qday's Family Trip to Kenya & Qday's Visit to Kyrgyzstan
Our family has been invited to Kenya by my father-in-law who is living in Nairobi for a while. So we are going to spend Christmas time in Africa. It's going to be a very different Christmas. Also on 9th January Qday is going to visit to Kyrgyzstan for a week to help a missionary and a local Christian community. Please pray for him and them.
4. Owen & Seungsae Trip to South Korea and Cambodia
The end of January Owen and Seunage are travelling to South Korea and Cambodia to develop the relationships with people and connection with a mission organisation. Please pray for their journey and finances.
5. Qday's Music Album: Tomorrow Never Comes!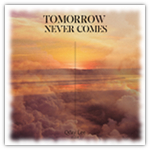 For the last three years, Qday has been praying and working on his first music album, which is now in the final stage of designing the album jacket. I really thank God and people who have been praying and helping. If you want to listen and watch a few songs on You Tube;

2. The Only Way
4. Enough
---
National Day of Prayer for Britain
- Date : 26th January 2019 (10am - 6pm)
- Venue : The SSE Arena, Engineers Way, Wembley, London, HA9 0AA, U.K.
- Contact : +44 (0)1924 453693 / www.eurovision.org.uk/prayer2019
- Admission : Click here
The Forge School of Faith
- Dates : 30th March 2019 - 13th April (Wales) / 17th April - 1st May (The Middle East)

- Cost : £300 (Wales; exclude airfares) / £450 (The Middle East; exclude airfare)
- Language : Only English
- Contacts : This e-mail address is being protected from spambots. You need JavaScript enabled to view it. / www.theforgewales.org.uk/cms/index.php/en/school
Springs Gathering
- Dates : 22nd April - 25th April 2019 (Galilee, Israel)
- Contacts : This e-mail address is being protected from spambots. You need JavaScript enabled to view it. / www.facebook.com/springsgathering/

"Jews and Gentiles are gathering to worship the God of Israel"
Three Days Fast & Pray for Israel & UK

- Dates : 24th - 26st June 2019

- Venue : Kings Park Centre, King's Park Road, Northampton, NN3 6LL
- Contacts: 07919 620566 (Dr Anne Rowntree) / This e-mail address is being protected from spambots. You need JavaScript enabled to view it.